68-CHEVROLET-CAMARO-CHEVELLE-NOVA-MALIBU-SS-350-AIR-CLEANER-295HP-4-SPEED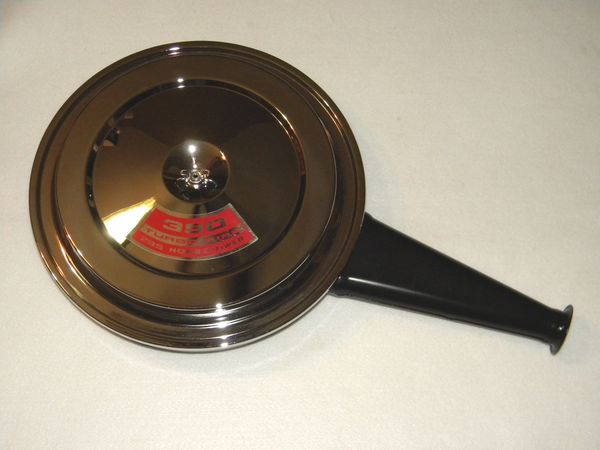 68-CHEVROLET-CAMARO-CHEVELLE-NOVA-MALIBU-SS-350-AIR-CLEANER-295HP-4-SPEED
DESCRIPTION

 

OEM 1968 Chevrolet Chevelle/Camaro/Nova/El Camino/Malibu SS 350 295HP 4 Speed Air Cleaner. This assembly has been media blasted and refinished in the correct semi-gloss black finish to present a period correct image. The single snorkel with round end is in good condition and correct for the one year 4 speed only; it has a minor bend on the bottom - hard to see once installed, but mentioned for clarity. The base is excellent and features a GM licensed reproduction Air Cleaner Service Decal (CO=1968). As a nice finishing touch, the original date stamp has been added for for further authenticity.  

 

A beautiful reproduction chrome lid enhances the classic musclecar appearance and includes a new seal to ensure correct sealing. To complete the package, a new heavy duty air filter, new breather filter, and period correct chrome wing nut are included. To add further distinction, GM licensed 350 /295HP decals are included (temporarily installed - permanent installation to be made by the buyer as required) and complement the overall assembly. 

 

This assembly is in nice condition and will enhance your restoration. Best of all, it is a genuine GM part!

 

For further information on the restoration process and additional offerings, please contact us.

 

APPLICATIONS

 

This assembly is correct for the following:

1968 Chevrolet

350/295HP Chevelle SS/Camaro SS/Nova SS /El Camino 4 Speed

*it will also fit the 327/4V 4 speed cars as well - please inquire if you prefer a black lid (standard 327) or the decal




Note: automatic equipped cars featured the ThermAC valve on the top of the snorkel, along with the plastic pre-heater duct and hose connected to the exhaust manifold. 4 speed air cleaners were not required to feature this emissions requirement.




 

FITMENT

 

The assembly will fit factory 4 barrel Quadrajet carburetors with a 5 1/8" diameter flange, as well as Holley (non double-pumper), Carter, and Edelbrock variations without electric choke (some adjustment to the carburetor alignment tangs may be required). If you have modified your carburetor, intake manifold, or valve covers, please inquire first prior to bidding to ensure fitment is correct. Return requests for non-fitment will not be honored.




It will not correctly fit the 69 models due to the orientation of the snorkel and valve cover breather filter outlet location.



FITMENT

 

The assembly will fit factory 4 barrel Quadrajet carburetors with a 5 1/8" diameter flange, as well as Holley (non double-pumper), Carter, and Edelbrock variations without electric choke (some adjustment to the carburetor alignment tangs may be required). If you have modified your carburetor, intake manifold, or valve covers, please inquire first prior to bidding to ensure fitment is correct. Return requests for non-fitment will not be honored.




It will not correctly fit the 69 models due to the orientation of the snorkel and valve cover breather filter outlet location.

 

CUSTOMER SERVICE, WARRANTY, & RETURNS

 

CUSTOMER SERVICE

The assembly will ship within one day (usually the day of payment) with shipping/tracking information provided.

 

WARRANTY

This assembly is guaranteed to match the item description – customers have up to 14 days to return the assembly after receipt if it is not as described.

 

RETURNS

Assemblies must be returned in the original packing – customers are responsible for return shipping charges. A refund will be issued upon receipt of the inspected assembly. Returns for non-fitment will not be honored – please ask questions first.

 

CLAIMS

In the event of shipping damage, customers must save all packaging and send 5 digital pictures so Musclecar Air Cleaners can initiate a shipping damage claim.

 

SHIPPING OPTIONS

We ship with

 

 

Estimated shipping costs:

            US  $15-$30

            Canada / Hawaii / Alaska $45 +/-

            Scandinavia  $55 or less

            Australia  $85 or less