1971 Mopar Mr. Norms NOS GSS 340 Tri-Power Air Cleaner
1971 Mopar Mr. Norms NOS GSS 340 Tri-Power Air Cleaner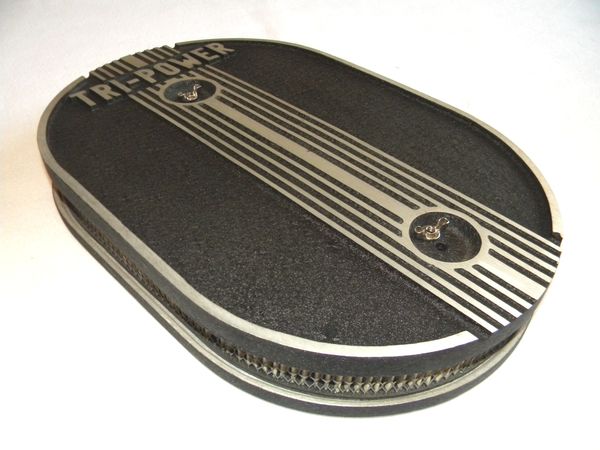 DESCRIPTION
1971 Dodge Demon GSS 340 NOS Tri-power Air Cleaner. This assembly is a true time capsule that has survived for nearly 50 years without use! The base is in excellent condition and features the Holley carburetor flanges designed to work with the Mopar Six Pack/Six Barrel set-ups. The exterior features the correct "TRI POWER" callout - a standard with Mr. Norms no nonsense approach towards providing high performance for the 71 340 Demons.  To complete the assembly, an NOS air filter (Yes, NOS) and a pair of period correct wing nuts with studs are included. The wrinkle paint is very nice - it features typical surface characteristics of the factory finish. Note that the inside of the top features casting flaws, as well as some light grinding to reduce the roughness - this does not impact the rigidity or function of the top - it is mentioned for clarity.
It is most likely that this is the last NOS piece that is complete in existence.
BACKGROUND
Mr. Norm Krause was a high performance Mopar dealer based in Chicago during the heyday of musclecars and continues that legacy today. Due to his insightfulness and determination, he created the 67 383 Darts/Barracudas. In 68, he upped the ante to create the 440 Darts/Barracudas - when Mopar finally realized they could do this without too much modification, they joined in as well. In 1971, he created the 340 Demon GSS using the (1970 AAR/TA)  Edelbrock 340 Aluminum intake and readily available Holley trio of 2 barrels. Since the hood profile for the A-body was very low, he creatively sourced the Tri Power air cleaner assembly from Segal Industries in California (long since out of business). The combination of low cost, hood clearance, and tri power ready made it a logical choice. The legend of the Demon GSS was born. He went on to continue his high performance approach by adding a Paxton Supercharger to the 72 Demon 340 GSS as well. 
This assembly was originally used by Mr. Norms Grand Spaulding Sport Dealership based out of Chicago, Illinois. Mr. Norm Krause, an innovative car dealer, was reknown for his specialized custom Mopars for all A/B/C and E bodies. For 1971, he chose the Demon 340 platform to slip one past the EPA. He added the Edelbrock 340-6 set-up to the Demon, but needed an air cleaner that would clear the hood. An off-the-shelf Tri-Power aluminum air cleaner - sourced from a now defunct California based company named Segal Industries - provided the assembly. Contrary to the Ford enthusiasts, this piece was initially designed for the 67 427 Corvette Tri-Power cars - hence the reverse nature of the call-out which was correct when viewed from the rear of the forward tilting Corvette hood.
This assembly presents well and will enhance your restoration. Best of all, it is a genuine and ultra-rare Mr. Norms part!
For further information on the restoration process and additional selections, please contact us.
Also, if you have one of these air cleaners and need a replacement air filter, we can provide a custom air filter - please use the contact page for further details.
APPLICATIONS
This assembly is correct for the following 1971 340 high performance models:
Dodge
Demon GSS
It will fit A/B/C/E-body cars ranging from 68-73 using the Mopar Six Pack/Six Barrel carburetors requiring lower hood clearance.
FITMENT
The assembly will fit factory 6 barrel carburetors (Holley). If you have modified your carburetor or intake manifold, please inquire first prior to bidding to ensure fitment is correct. Return requests for non-fitment will not be honored.
CUSTOMER SERVICE, WARRANTY, & RETURNS
CUSTOMER SERVICE
The assembly will ship within one day (usually the day of payment) with shipping/tracking information provided.
WARRANTY
This assembly is guaranteed to match the item description – customers have up to 14 days to return the assembly after receipt if it is not as described.
RETURNS
Assemblies must be returned in the original packing – customers are responsible for return shipping charges. A refund will be issued upon receipt of the inspected assembly. Returns for non-fitment will not be honored – please ask questions first.
CLAIMS
In the event of shipping damage, customers must save all packaging and send 5 digital pictures so Musclecar Air Cleaners can initiate a shipping damage claim.
SHIPPING OPTIONS
We ship with
Typical shipping costs:
            US  $20-$28
            Canada / Hawaii / Alaska $40 +/-
            Scandinavia  $55 or less
            Australia  $75 or less