1970 CHEVROLET 454 LS6 396 L78 DUAL SNORKEL AIR CLEANER CHEVELLE CAMARA NOVA SS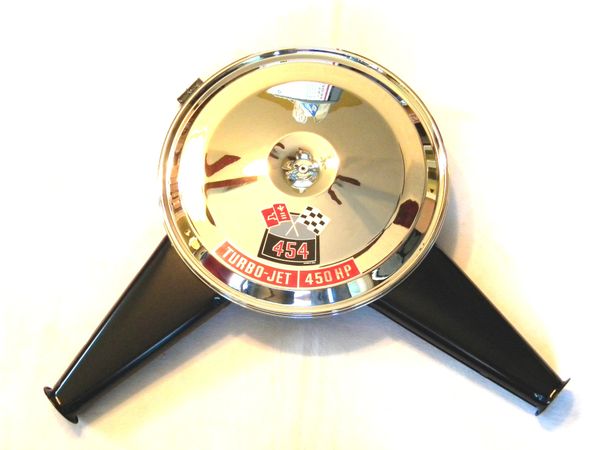 1970 CHEVROLET 454 LS6 396 L78 DUAL SNORKEL AIR CLEANER CHEVELLE CAMARA NOVA SS



DESCRIPTION

 

1970 Chevrolet Camaro SS Chevelle SS Nova SS El Camino SS 396/454 Dual Snorkel Air Cleaner. This is a reproduction assembly that has been reworked in the correct semi-gloss black finish to present a period correct image. The base features dual snorkels with the replaced correct snorkel ends with rolled edges (the repro snorkels are simply stamped flat with a small insert) that present correctly. The interior is fitted with a new heavy duty air filter and a recreated date stamp. The snorkel mounting points have been reworked to more closely match the original flanges, eliminating the 12 weld marks and shorter flange fittings that are a dead give-away to its reproduction status. The exterior features a reproduced Air Cleaner Service Decal (CO= 70 HP). The original style flame arrestor tube comes complete with a new flame arrestor screen and a new GM stamped adapter hose replete with valve cover elbow. A mid- year date stamp (Feb 11, 1970) has been added as a nice touch of originality to parallel the close release time of these assemblies.

 
The beautiful triple chrome-plated reproduction lid is an excellent addition to the assembly and features a new seal to ensure correct sealing. To complete the package, a GM licensed Turbo-Jet  L78 396/375 Horsepower set of decals or a set of LS6 454/450 decals - depending upon your application, and a period correct wing nut are included. 
Due to the rarity of these OEM assemblies, originals go for well over $3,500. The current crop of reproductions are close, but nowhere near the original appearance in the snorkel ends, weld marks on the snorkel flanges, and final finish. We have taken the time to update the assembly to reflect the OEM standards as closely as possible, but at a fraction of the price of an original.
The dual snorkel air cleaner is specific to original cars without cowl induction or air conditioning for the 1970 models only.
This assembly is in nice condition and will enhance your restoration - it is complete and ready to install.
We will only re-create these very infrequently, as the snorkel ends are difficult to obtain, as well as the time expended to complete them. Due to the difficulty in finding correct snorkels (two or more air cleaners are required for this conversion), we cannot predict when or if we will be able to create another assembly.  This is likely to be our last one of these for a long time.
For further information on the restoration process, please contact us.
APPLICATIONS
This assembly is correct for the following models:
1970 Chevrolet
Camaro SS, Chevelle SS, Nova SS with L78 / LS6 engines W/O cowl induction
Please include a note to us with your selection of L78 or LS6 engine decals.
The assembly is correct for non-AC cars and non-Cowl Induction cars - it was only used later in the 70 production year and was replaced with a completely different assembly for the 71-72 models.
FITMENT
The assembly will fit factory 4 barrel Holley (5140s) carburetors with a 5 1/8" diameter flange, as well as Rochester Quadrajets, Carter, and Edelbrock variations (some adjustment to the carburetor alignment tangs or flame arrestor tube may be required). If you have modified your carburetor or intake manifold, please inquire first prior to bidding to ensure fitment is correct. Return requests for non-fitment will not be honored.
CUSTOMER SERVICE, WARRANTY, & RETURNS
CUSTOMER SERVICE
The assembly will ship within one day (usually the day of payment) with shipping/tracking information provided.
WARRANTY
This assembly is guaranteed to match the item description – customers have up to 14 days to return the assembly after receipt if it is not as described.
RETURNS
Assemblies must be returned in the original packing – customers are responsible for return shipping charges. A refund will be issued upon receipt of the inspected assembly. Returns for non-fitment will not be honored – please ask questions first.
CLAIMS
In the event of shipping damage, customers must save all packaging and send 5 digital pictures so Musclecar Air Cleaners can initiate a shipping damage claim.This item is shipped insured for all destinations
 

SHIPPING OPTIONS

 WE SHIP WITH

 

Estimated shipping costs:

            US  $20-$30

            Canada / Hawaii / Alaska $45 +/-

            Scandinavia  $65 or less

            Australia  $95 or less
Shipping/handling includes full value coverage.