1969-72 CHEVROLET CAMARO COWL INDUCTION PARTS 350 4V STOVE ASSY RISER SEAL SMALL PARTS RESERVED OFFER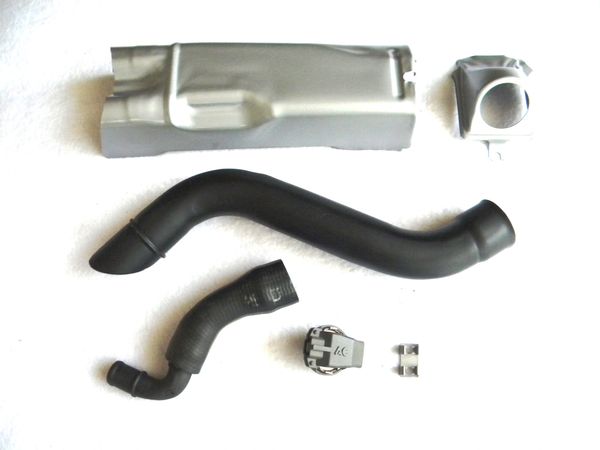 1969-72 CHEVROLET CAMARO COWL INDUCTION PARTS 350 4V STOVE ASSY RISER SEAL SMALL PARTS RESERVED OFFER



 DESCRIPTION
 



OEM 1969 Chevrolet Camaro SS 350/300HP Cowl Induction Air Cleaner parts lot to include 3 piece Pre-heater Stove/Chimney/Tube, flange riser, flange seal, air temperature sensor with clip, and original air cleaner to valve cover formed GM hose with 90 degree small block elbow. These parts have been refinished to present a period correct image. The stamped stove piece is in very nice condition and features the correct mounting tangs for attachment to the exhaust manifold bolts. The chimney is also very clean and has the correct tang for attaching to the exhaust manifold bolt after being inserted into the stove. The heat rising tube features the angled insert for the exhaust manifold chimney with pinch mark for installation. The remainder of the tube curves upward to meet the bottom of the air cleaner under the ThermaAC vacuum trap door. This assembly is specific to small block cars.




The air temperature sensor is the correct black 69 version and is complete with new foam gasket and OEM retainer. The OEM formed hose that connects to the flame arrestor tube on the bottom of the air cleaner is completed with an original small block 90 degree elbow.




The air cleaner flange riser is the 1" version that sits atop the air cleaner base, then is completed with the seal flange. It features the correct indentation for the distributor relief. Finally, a reproduction cowl induction seal is included.




As an added bonus, a new carburetor stud with wing nut is included to complete the installation.




These parts present well and will enhance your restoration. 




For further information on the restoration process and additional offerings, please contact us.

 

APPLICATIONS

 

This assembly is correct for the following:

1969 Chevrolet

350/300HP Camaro SS automatic models with 4V carburetors and cowl induction. Note that 4 speed air cleaners did not feature the requirement for the pre-heater stove/chimney/tube as they were void of the ThermAC provision.






FITMENT

 

The assembly will fit factory air cleaners indexed correctly for the 1969 model year. If you have modified your air cleaner, please inquire first prior to bidding to ensure fitment is correct. Return requests for non-fitment will not be honored.




It will not fit 1968 models due to the orientation of the snorkel. 



CUSTOMER SERVICE, WARRANTY, & RETURNS

 

CUSTOMER SERVICE

The assembly will ship within one day (usually the day of payment) with shipping/tracking information provided.

 

WARRANTY

This assembly is guaranteed to match the item description – customers have up to 14 days to return the assembly after receipt if it is not as described.

 

RETURNS

Assemblies must be returned in the original packing – customers are responsible for return shipping charges. A refund will be issued upon receipt of the inspected assembly. Returns for non-fitment will not be honored – please ask questions first.

 

CLAIMS

In the event of shipping damage, customers must save all packaging and send 5 digital pictures so Musclecar Air Cleaners can initiate a shipping damage claim.

 

SHIPPING OPTIONS

We ship with FedEx and USPS