1959-79 MOPAR PERFORMANCE BIG BLOCK ALUMINUM VALVE COVERS 383 440 W/PCV & BREATHER FILTER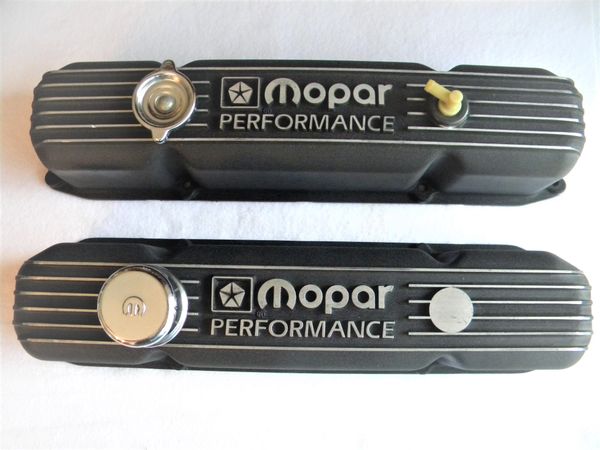 1959-79 MOPAR PERFORMANCE BIG BLOCK ALUMINUM VALVE COVERS 383 440 W/PCV & BREATHER FILTER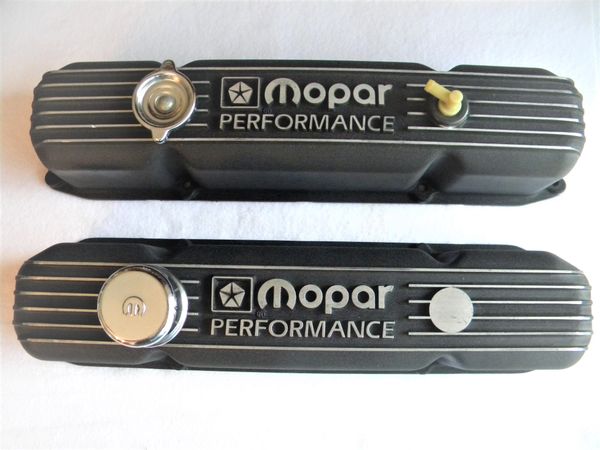 DESCRIPTION
This is a nice set of Mopar Performance Aluminum Valve covers for the 1959-1979 model years. They have been refinished with Black Wrinkle paint to match the factory finish. The interior has been cleaned, but does show signs of oil residue. All of the internal baffles are in place as well. The set includes a Mopar logo valve cover screw-in breather filter, OEM PCV valve and grommet, and matching oil hole cap. All mounting points are straight, as is the gasket sealing surface. The set includes new hardened Grade 8 1/4-20 x .75 bolts that allows equal force distribution for installation and having the correct installed height. While they are not perfect, they are a very nice set of discontinued MP valve covers.

This is a nice set of valve covers that presents well. Best of all, they are genuine Mopar Performance parts!
FITMENT
These will fit B/RB engines with OEM heads for the 1959-79 models:
PLYMOUTH
Road Runner, GTX, 'Cuda 383/440, Sport Fury, Satellite Sebring Plus
DODGE
Coronet R/T, Charger R/T, Coronet 500, Super Bee, Charger 500, Charger S/E, Challenger R/T, Challenger S/E
They can also be used on other models, but the primary difference will be in the location of the breather filter/style and the location for the PCV provision.