1973-75 PONTIAC TRANS AM 400 455 CUSTOM AIR CLEANER FRESH AIR DUCT SET OEM W/HOSE & CLIP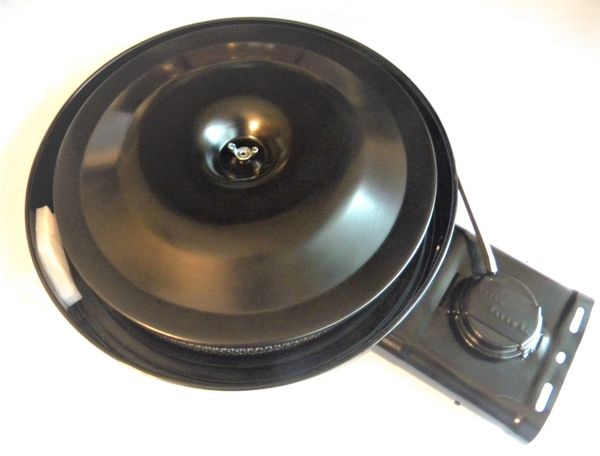 1973-75 PONTIAC TRANS AM 400 455 CUSTOM AIR CLEANER FRESH AIR DUCT SET OEM W/HOSE & CLIP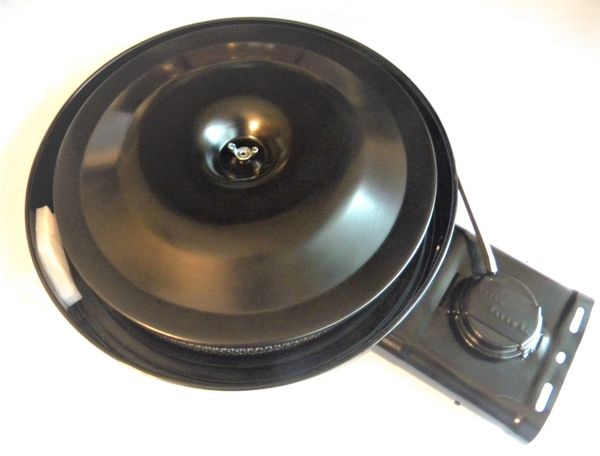 DESCRIPTION
OEM 1973-75c Pontiac Trans Am Pontiac W72 400/455 Custom Shaker Air Cleaner with 3 Piece Fresh Air Duct Set. This is a customized Trans Am air cleaner featuring a removable aluminum deep drop insert designed to accomodate multiple carburetor and EFI applications. The base is Pontiac and features the 6" oval snorkel fitted with new white-striped vacuum lines. The interior features a functional air temperature sensor, but is installed for aesthetics and in a location that doesn't interfere with fuel related ancillaries. The deep drop insert has been beveled to match the hood slope - some final adjustment may be necessary. It is completed with an aluminum shaker lid, heavy duty air filter and breather filter, matching breather tube with adapter, air cleaner service decal (PQ=73), and a period correct wing nut.
An OEM set of Pontiac Trans Am fresh air ducts for the W72 cars equipped with the oval snorkel. The set goes from air cleaner oval adapter, 4" flexible hose, 4" corner, and on to the the fender inlet - is all included with mounting hardware too. This is a complete ductwork package that makes installation 100% factory correct and functional. Note the flexible hose uses the early style metal clasp - replaced by plastic clasps in later designs.
This is a nice set and presents well. 

For further information on the restoration process, please contact us.
Many of our original parts are not readily available and there is no guarantee of replacement. As such, the old adage "here today, gone tomorrow" applies.
APPLICATIONS
This assembly is correct for the following 1973-75 models:
Pontiac
Trans Am with 400/455 Pontiac engine: W-72 
Note the difference between 1976-79 parts is the corner elbow mounting provision. These units featured a bolt-on clip that mounted the corner duct to a hole in the fender. While it will fit the later cars, it is technically incorrect. 1976 was a transition year where early cars may or may not have had the corner strut bars; later models featured the smaller diameter strut bars using the separate mounting bracket.

*It will also fit 455 Pontiac engines transplanted into 400 cars. It will NOT fit Oldsmobile 403/455 engines.
Note: this will NOT fit the Pontiac 301/Chevrolet 305/350 engines due to the smaller 3" diameter round elbow inlet on the air cleaner and elbow adapter.
FITMENT
The assembly will fit factory W-72 style oval snorkel air cleaner assemblies resting on the factory inner fender wells as described above. Return requests for non-fitment will not be honored.
CUSTOMER SERVICE, WARRANTY, & RETURNS
CUSTOMER SERVICE
The assembly will ship within one day (usually the day of payment) with shipping/tracking information provided.
WARRANTY
This assembly is guaranteed to match the item description – customers have up to 14 days to return the assembly after receipt if it is not as described.
RETURNS
Assemblies must be returned in the original packing – customers are responsible for return shipping charges. A refund will be issued upon receipt of the inspected assembly. Returns for non-fitment will not be honored – please ask questions first.
CLAIMS
In the event of shipping damage, customers must save all packaging and send 5 digital pictures so Musclecar Air Cleaners can initiate a shipping damage claim.
SHIPPING OPTIONS
We ship with
Estimated insured shipping costs:
            US  $10-$20 
            Canada / Hawaii / Alaska $35 +/-
            Scandinavia  $55 or less
            Australia  $75 or less