1968-69 PONTIAC SPRINT OHC-6 4 BARREL AIR CLEANER FIREBIRD LEMANS SPORT TEMPEST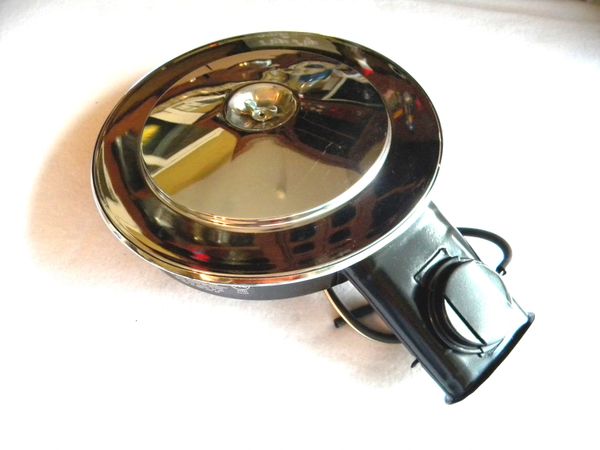 1968-69 PONTIAC SPRINT OHC-6 4 BARREL AIR CLEANER FIREBIRD LEMANS SPORT TEMPEST



                                                                                                    
OEM 1968-69 Pontiac Firebird Lemans Tempest OHC-6 4 Barrel air cleaner. This assembly has been refinished to the original look of the 1968 cars featuring the hard to find Sprint OHC-6 engine with the 4 barrel. This set-up is unique to the 68-69 Pontiac OHC engines due to the snorkel angle and 5 1/8" carburetor flange (Chevrolet featured a parallel snorkel for their 230/250 engines this year and 4 barrel carburetor flange). 

The base features the oval canted snorkel with ThermAC pre-heater door and large inlet on the bottom.

The inside is clean and has a reproduced date code to add a nice touch of authenticity.  The bottom of the snorkel features the larger and longer ThermAC preheater inlet - exclusive to the Pontiac line-up.
An original chromed air cleaner lid is clean and presents fairly well too (7 of 10). 

The assembly is com

pleted with a new heavy duty air filter, new valve cover breather filter with clip, and period correct wing nut. 



This assembly is in nice condition and will add to your restoration. Best of all, it is a genuine and rarer GM part!




For further information on the restoration process, please contact us.




Note many of our parts have limited availability - we cannot predict if or when we will acquire another. The old adage "here today, gone tomorrow" is applicable. While we strive to maintain a diverse inventory, some parts are simply too scarce to actively replenish.

 

APPLICATIONS

This assembly is correct for the following:

1968-69 Pontiac

Firebird, Lemans, and Tempest featuring the 4 Barrel OHC-6 engine




67 OHC cars featured a straight tapered snorkel without the ThermAC provision - it will still fit, but is technically incorrect.







FITMENT

This assembly will fit factory 4 barrel Quadrajet carburetors with a 5 1/8" diameter flange. If you have modified your carburetor or intake manifold, please inquire first prior to bidding to ensure fitment is correct. Return requests for non-fitment will not be honored.




CUSTOMER SERVICE, WARRANTY, & RETURNS




CUSTOMER SERVICE

The assembly will ship within one day (usually the day of payment) with shipping and tracking information provided




WARRANTY

This assembly is guaranteed to match the item description - customers have up to 14 days from the date of delivery to return the assembly if it is not as described




RETURNS

Assemblies must be returned in the original packing- customers are responsible for return shipping charges. A refund will be issued upon receipt of the inspected assembly. Returns for non-fitment will not be honored-please aske questions first.




CLAIMS

In the event of shipping damage, customers must save all packaging and send 5 digital pictures so Muscle Car Air Cleaners can initiate a shipping damage claim.




SHIPPING OPTIONS

We ship with