1974 MOPAR 360 FOUR BARREL TRAP DOOR AIR CLEANER CHARGER RALLYE ROAD RUNNER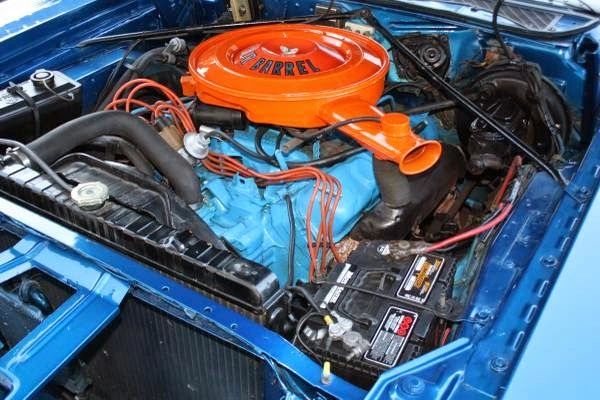 1974 MOPAR 360 FOUR BARREL TRAP DOOR AIR CLEANER CHARGER RALLYE ROAD RUNNER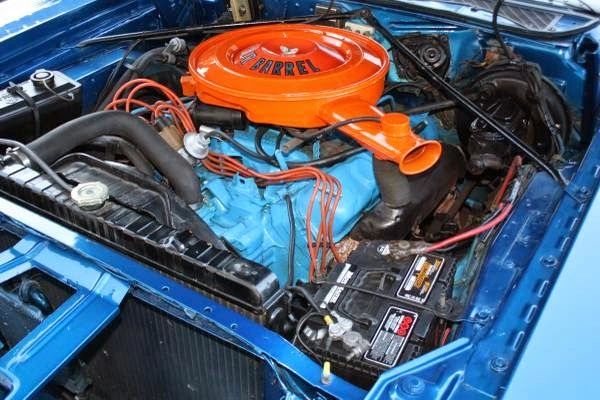 1974 Mopar 360 Oval Snorkel Air Cleaner. This assembly has been refinished in hemi orange to present a period correct image. The base features the long single oval snorkel specific to the 74 year model B-bodies in very good condition. The single vacuum door operates the pre-heated trap door and has been fitted with new vacuum lines. The exterior features a Mopar air cleaner service decal to provide the correct look. The inside of the base is very clean as well and maintains an original air temperature sensor secured with factory push pins. The NOX valve is also nice and is installed with the correct gasket and bolts.
The factory lid is nice as well and has been garnished with a 360 FOUR BARREL decal. The inside has been fitted with a new Mopar reproduction lid seal. As a nice touch, a "Made in Canada" stamp has been added to both insides of the base and lid.

The last picture illustrates the correct air cleaner assembly in the bay of a highly original Charger - featured as a reference only.
This is a nice example that will enhance your restoration. Best of all, it is a rare and genuine Mopar part!
FITMENT
Fits factory 4 barrel carburetors with a 5 1/8" flange go include Carter Thermoquad, AVS, as well as Edelbrock AFB/Thunder Series, and most Holleys. Note this unit differs from the A/E body assemblies by way of a much longer tapered oval snorkel - designed to extend in the larger confines of the B-body engine bay.
APPLICATIONS
Correct for 1974 models featuring the high performance 360 engine:
Plymouth
Road Runner, Satellite Sebring Plus
Dodge
Charger, Charger Rallye
This will fit many models of Mopars from 68-74, but is only correct for 74 due to the snorkel design. Also note that this unit is different from the A/E-body 360 air cleaners by way of the snorkel length-this one is approximately 2" longer to fit better in the bigger B-body engine compartment.