1972 BUICK GS 350 455 STAGE 1 RAM AIR AIR CLEANER SKYLARK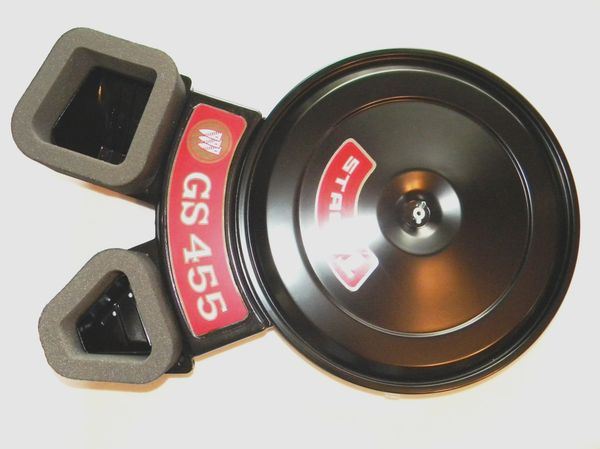 1972 BUICK GS 350 455 STAGE 1 RAM AIR AIR CLEANER SKYLARK



OEM 1972 Buick GS 455 Stage 1 Ram Air Air Cleaner Assembly. This assembly has been refinished to the original look of the 1972 cars featuring the four barrel Ram Air fresh air system. The base features a clean interior with drain hole, correct Air Temperature Sensor, Dual snorkel inlets featuring new white-striped vacuum lines, GM air cleaner service decal (BD=72), and a new breather filter. An original black lid augments the factory image, retaining the classic understated look. The assembly is completed with a heavy duty air filter and period correct wing nut. 
The 72 specific Ram Air adapter piece is in nice condition. All prior finishes were removed, then the parts were coated to resemble the factory gel-coat finish. The triangular and rectangular bottom cups are complete and intact. A Buick GS  455 decal is included on the Ram Air adapter, adding a nice touch of originality; an NOS GS 350 is available if requested. To complement the entire assembly, a reproduced date code has been added. New correct foams are installed via the factory methodology as well, ensuring fresh air is channeled from the hood adapters in through the Ram Air assembly.

As an added value, a Buick "Stage 1" decal is included (loosely installed) to further complement the engine compartment - especially for those lucky enough to have a V code Stage 1!




We will include the GS 455 decal unless you let us know you would prefer the GS350.

This assembly presents well and will enhance your restoration. Best of all, it is a rare and Genuine GM part! 

For further information on the restoration process, please contact us.

APPLICATIONS
This assembly is correct for the following:
1972 Buick
Regal Gran Sport/GS with the 350 / 455 engines (or transplanted 400 engines) - specific to 72 due to the air pump clearance created by changing the LH cup to a triangular shape.
*This assembly differs from the 1970-71 models by means of the dual rectangular ram air cups - a visual difference.
FITMENT
This assembly will fit factory 4 barrel carburetors with the 5 1/8" flange (Quadrajet). If you have modified your carburetor, distributor, or intake manifold, please inquire first prior to bidding to ensure fitment is correct. Return requests for non-fitment will not be honored.
CUSTOMER SERVICE, WARRANTY, & RETURNS
CUSTOMER SERVICE
The assembly will ship within one day (usually the day of payment) with shipping and tracking information provided
WARRANTY
This assembly is guaranteed to match the item description - customers have up to 14 days from the date of delivery to return the assembly if it is not as described
RETURNS
Assemblies must be returned in the original packing- customers are responsible for return shipping charges. A refund will be issued upon receipt of the inspected assembly. Returns for non-fitment will not be honored-please ask questions first.
CLAIMS
In the event of shipping damage, customers must save all packaging and send 5 digital pictures so Muscle Car Air Cleaners can initiate a shipping damage claim.
SHIPPING OPTIONS
We Ship With