1971 AMC HORNET 360 AMX SST JAVELIN FOUR BARREL RAM AIR INDUCTION CHROME AIR CLEANER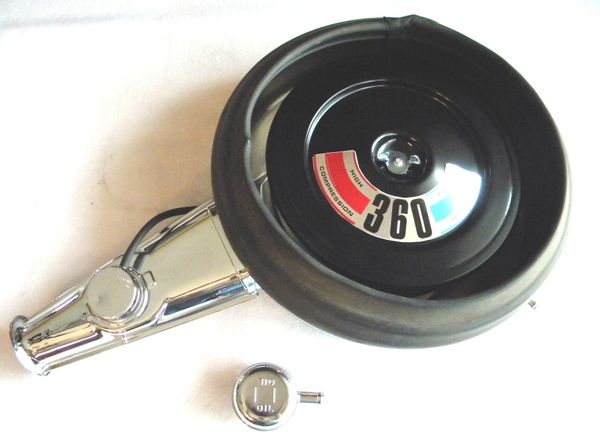 1971 AMC HORNET 360 AMX SST JAVELIN FOUR BARREL RAM AIR INDUCTION CHROME AIR CLEANER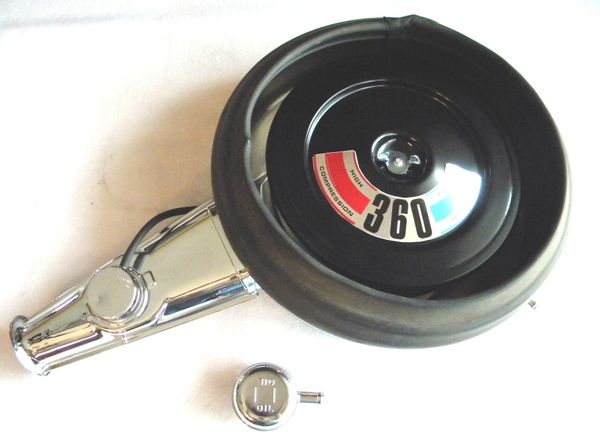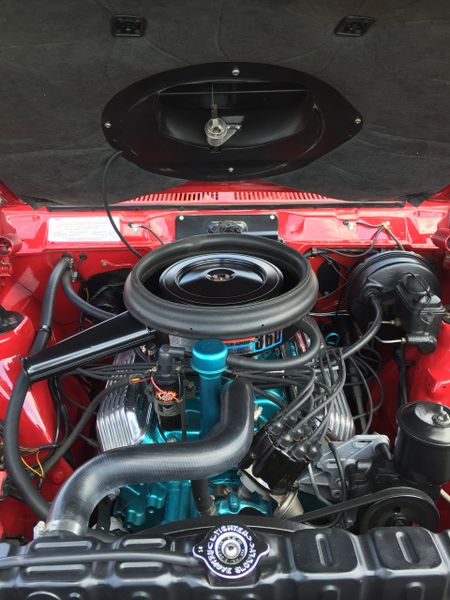 DESCRIPTION
Take Your Go-Pak To The Track! 


1971  AMC Hornet Javelin SST AMX 360 Ram Air Induction Air Cleaner assembly. This assembly was chromed at one time to complement the OEM appearance as produced for the later 71 models. The base features the vacuum pre-heater assembly introduced in late 1971. It is in excellent condition and retains the front breather tube. The flange is 5 1/8" inch and accommodates factory 4 barrel carburetors (Autolite 4300 models) and modern iterations of Edelbrock AFB and select Holley carburetors. The base is completed with a reproduction AMC licensed 360 Four Barrel High Compression air cleaner decal and the correct green air cleaner service decal (a 401 base decal is available separately if requested). The fresh air lid is in good condition and maintains the dimpled wing nut well. The assembly is completed with a new heavy duty air filter and period correct wing nut.
The seal remains in very good condition considering it is over 49 years old. It forms around the base and is joined via factory glue and special cloth tape. There is a minor puncture on the rear of the seal (3/8")- hard to see once installed, but does not impact function. A "Made In Canada" stamp has been added as a nice touch of authenticity to the inside of the lid.

This base assembly will work with the Ram Air Induction fresh air systems designed for the Go-Pak optioned cars, as well as many other engine combinations that have added plenum to the intake manifold (raising the center line of the engine). Note that the early 71 models featured a straight tapered snorkel without the vacuum actuator; this changed around mid-year of production due to Federal emissions requirements.  The last picture illustrates this style assembly as installed on an SC/360 Hornet.
As an added bonus, a matching original chrome AMC Oil filler cap with 1/2" nipple is included.
This is a nice assembly that will complement your engine and enhance its performance.
Many of our parts are available only once - we cannot predict if/when another will become available due to the scarcity of original parts. The old adage "here today, gone tomorrow" applies to many of these unique assemblies. While we strive to maintain a strong diversity of desirable parts, there simply aren't enough available to meet demand at times. 

APPLICATIONS

 

This assembly fits the following 1971-72 360 models:

AMC

SC Hornet, Javelin SST, AMX




It will fit a variety of AMC cars from 1970-1974 featuring the 343/360/401 engines (with the change of a decal) as well. 
                                                                                                         FITMENT

 

The assembly will fit factory 4 barrel Autolite carburetors with a 5 1/8" diameter flange, as well as Holley (non-double pumpers), Carter, and Edelbrock variations without electric choke (some adjustment to the carburetor alignment tang may be required). If you have modified your carburetor or intake manifold, please inquire first prior to bidding to ensure fitment is correct. Return requests for non-fitment will not be honored.

 

CUSTOMER SERVICE, WARRANTY, & RETURNS

 

CUSTOMER SERVICE

The assembly will ship within one day (usually the day of payment) with shipping/tracking information provided.

 

WARRANTY

This assembly is guaranteed to match the item description – customers have up to 14 days to return the assembly after receipt if it is not as described.

 

RETURNS

Assemblies must be returned in the original packing – customers are responsible for return shipping charges. A refund will be issued upon receipt of the inspected assembly. Returns for non-fitment will not be honored – please ask questions first.

 

CLAIMS

In the event of shipping damage, customers must save all packaging and send 5 digital pictures so Musclecar Air Cleaners can initiate a shipping damage claim.

 

SHIPPING OPTIONS

WE SHIP WITH