1971-72 Chevrolet Chevelle SS LS3 LS5 396 400 402 454 Cowl Induction Air Cleaner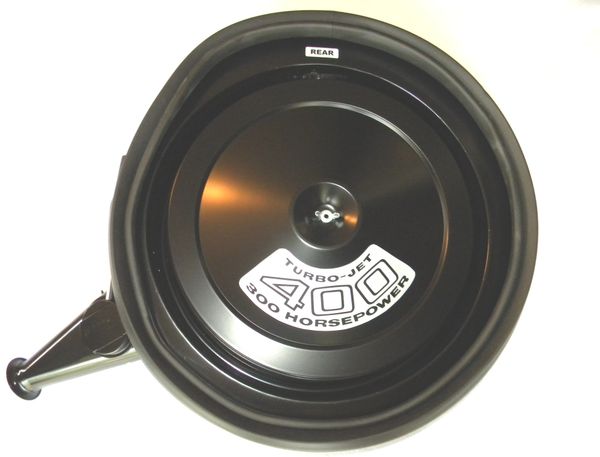 1971-72 Chevrolet Chevelle SS LS3 LS5 396 400 402 454 Cowl Induction Air Cleaner
 

DESCRIPTION




1971-72 Chevrolet Chevelle/El Camino SS LS3 396 400 402 LS5 454 ZL2 Cowl Induction Air Cleaner. This assembly has been refinished in the correct semi-gloss black finish to present a period correct image. The single canted snorkel with round end is in nice condition and correct for the last of the LS-engined Cowl Induction platforms. The base is very clean and adorned with a GM licensed reproduction Air Cleaner Service Decal (DH). Note that the snorkel is canted downward and is angled towards the corner of the passenger side fender (71-72 specific). It is also unique to these years as well, incorporating the ThermAC pre-heater function that was required for the new emissions standards as of 71. The flame arrestor tube is topped with an original GM stamped stainless screen, all connected to the valve cover with a GM yellow stamped adapter hose on the bottom connector tube. The ThermAC connects to the AC Air Temperature Sensor with new white-striped vacuum hose and is secured with an original GM clip. An original style date stamp has been added for further authenticity and as a nice finishing touch. A nice original pre-heater elbow, replete with Wittek screw clamp and new aluminum pre-heater tube, is included to make installation more complete. 




The cowl induction flange is fitted with a new replacement seal along with a new REAR decal. The air cleaner lid enhances the classic musclecar appearance and sits atop a new heavy duty air filter. To add further distinction, a choice of either a GM licensed 454/365HP or 400/300HP Turbo-Jet decals are included (temporarily installed - permanent installation to be made by the buyer as required) and complements the overall assembly. Please add a note to seller with your choice at checkout. Note that the 72 models did not feature an engine/horsepower displacement decal - it is included as a personal preference to use or not.




As an added bonus, the assembly includes the original GM spacer and factory issued air cleaner stud. To complete the package, a period correct wing nut is included.  




This assembly presents well and will enhance your restoration. Best of all, it is a very rare and genuine GM part.





Many companies will try to pass off the 70 style reproduction cowl assembly as correct for 71-72 models - this is not the case. These were specifically designed to meet more stringent drive-by noise regulations, as well as be emissions compliant. While the aftermarket pieces are "affordable," they are far from correct and can be distinguished from originals in 2 seconds when one knows what to look for.




For further information on the restoration process and additional offerings, please contact us.


 


APPLICATIONS

 

This assembly is correct for the following:

1971-72 Chevrolet

454/365 & 396/300HP & 400/300HP or 402/300HP Turbo-Jet models installed in Chevelle SS/El Camino SS cars featuring the Cowl Induction ZL2 option.




Note: both automatic and 4 speed equipped cars featured the ThermAC valve on the top of the snorkel. Non-cowl induction cars used a smaller case single/dual snorkel air cleaner specific to these years depending upon the A/C option. These assemblies differed from the 1970 version with the incorporation of the new for 71 ThermAC emissions provision for heated air at start-up using the air temperature sensor. The snorkel was canted downward, as opposed to the 70 straight version.




For the 72 version, no displacement decal was used; we do include one so you may choose to add it for more eye appeal if desired (loosely installed).
 

FITMENT

 

The assembly will fit factory 4 barrel Quadrajet carburetors with a 5 1/8" diameter flange, as well as Holley (factory), Carter, and Edelbrock variations without electric choke (some adjustment to the carburetor alignment tangs may be required). If you have modified your carburetor or intake manifold, please inquire first prior to bidding to ensure fitment is correct. Return requests for non-fitment will not be honored.
 

CUSTOMER SERVICE, WARRANTY, & RETURNS

 

CUSTOMER SERVICE

The assembly will ship within one day (usually the day of payment) with shipping/tracking information provided.

 

WARRANTY

This assembly is guaranteed to match the item description – customers have up to 14 days to return the assembly after receipt if it is not as described.

 

RETURNS

Assemblies must be returned in the original packing – customers are responsible for return shipping charges. A refund will be issued upon receipt of the inspected assembly. Returns for non-fitment will not be honored – please ask questions first.

 

CLAIMS

In the event of shipping damage, customers must save all packaging and send 5 digital pictures so Musclecar Air Cleaners can initiate a shipping damage claim.

 

SHIPPING OPTIONS