1970 1/2 PONTIAC FIREBIRD FORMULA 400 DUAL SNORKEL AIR CLEANER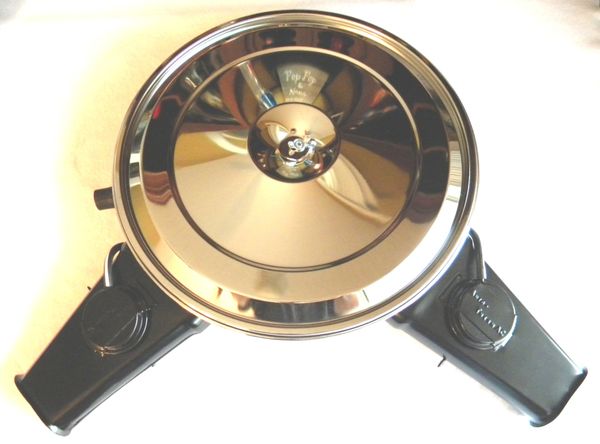 1970 1/2 PONTIAC FIREBIRD FORMULA 400 DUAL SNORKEL AIR CLEANER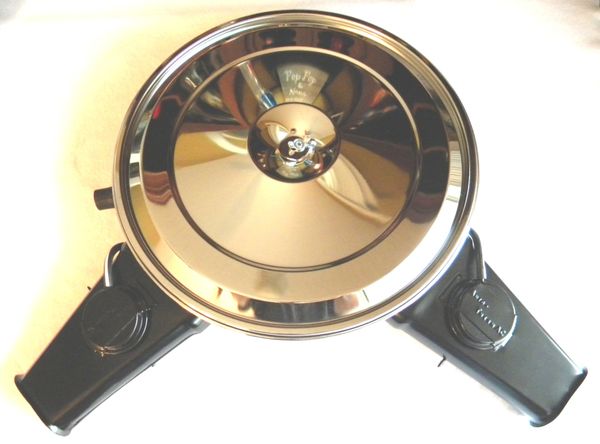 DESCRIPTION
OEM 1970 1/2 Pontiac Firebird Formula 400 Dual Snorkel Air Cleaner. This assembly has been refinished in semi-gloss black to present a period correct image. The base features the dual oval snorkels with ThermAC vacuum pods in fully functional condition featuring typical factory stamping waves. It is exclusive to 1970 models* due to the lack of a carburetor vent hole. It is complete with a correct ATS, retainer, and new white-striped vacuum lines. The exterior comes complete with a reproduction GM air cleaner service decal (RM=1970). The base features the correct deep drop required for proper hood clearance, as well as the angled flange that parallels the base level with the sloped hood line of the F-body. An original style date code has been added as a nice touch of authenticity.
A new reproduction chrome lid replete with new seal installs on top of the new heavy duty air filter and enhances the assembly. To complete the package, a period correct  wing nut and a new filter breather replete with new insert and ribbed adapter are included.
These particular non-Ram Air assemblies are seldom seen in any condition, making it a hard to find part. Note that the values of early 2nd gen F-bodies are rising substantially, making original cars much more desirable. 

Best of all, it is a rare genuine GM part!
Many of our parts are available only once - we cannot predict if/when another will become available due to the scarcity of original parts. The old adage "here today, gone tomorrow" applies to many of these unique assemblies. While we strive to maintain a strong diversity of desirable parts, there simply aren't enough available to meet demand at times. 
*Note: only 7,708 Formulas were built for 1970 - largely attributed to the late engineering requirements and subsequent delayed production start-up midway through the model year (aka 70 1/2). Subtract those featuring the Ram Air option and that number falls even lower.


For further information on the restoration process, please contact us.

APPLICATIONS
This assembly is correct for the following 1970 models:
Pontiac
Firebird Formula 400 without Ram Air
*It will also fit transplanted 350/455 Pontiac engines with factory intake manifolds (no carburetor spacers due to hood clearance).
Note: while it is not technically correct, it will fit 71-72 cars as well, but will require the addition of the carburetor vent tube hole provision. 

FITMENT
The assembly will fit factory 4 barrel Quadrajet carburetors with a 5 1/8" diameter flange, as well as Holley (it will NOT fit double pumpers; i.e. models 4150/4160), Carter/Edelbrock variations without an electric choke (some adjustment to the carburetor alignment tangs may be required). 

Note: There are substantial differences between the flange/drop of the GTO/Grand Prix (A/B-body) air cleaner bases as compared to the F-body cars - hood clearance is the primary issue and the shallower A-body drop will not properly clear the sloped F-body hood line. The easiest visual means to identify is that the A/B-body assemblies have ribs on the center flange, whereas the F-body is of a smooth design. The carburetor flange drop is then far more obvious. Issues caused by using the wrong one are obvious on many shaker scoops - the back corners are broken due to hood interference. 

If you have modified your carburetor or intake manifold, please inquire first prior to bidding to ensure fitment is correct. Return requests for non-fitment will not be honored.
CUSTOMER SERVICE, WARRANTY, & RETURNS
CUSTOMER SERVICE
The assembly will ship within one day (usually the day of payment) with shipping/tracking information provided. 
WARRANTY
This assembly is guaranteed to match the item description – customers have up to 14 days to return the assembly after receipt if it is not as described.
RETURNS
Assemblies must be returned in the original packing – customers are responsible for return shipping charges. A refund will be issued upon receipt of the inspected assembly. Returns for non-fitment will not be honored – please ask questions first.
CLAIMS
In the event of shipping damage, customers must save all packaging and send 5 digital pictures so Musclecar Air Cleaners can initiate a shipping damage claim.
SHIPPING OPTIONS
We ship with