1970-71 MOPAR BIG BLOCK VALVE COVERS 383 440 W/PCV & BREATHER FILTER GROMMETS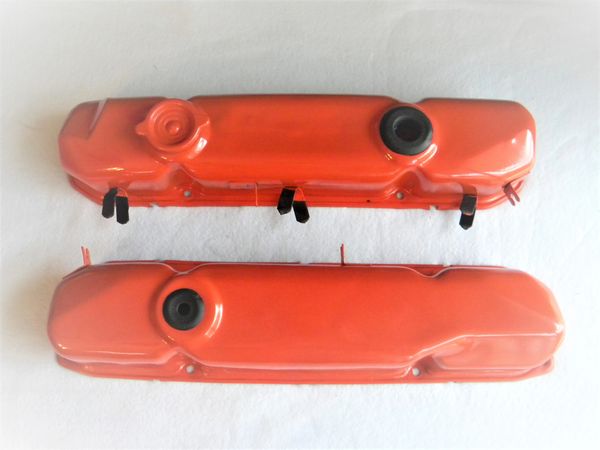 1970-71 MOPAR BIG BLOCK VALVE COVERS 383 440 W/PCV & BREATHER FILTER GROMMETS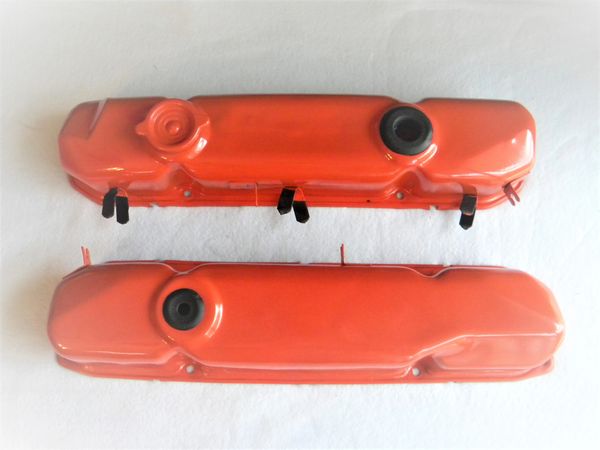 DESCRIPTION
This is a nice set of OEM Mopar Valve covers prepared for installation on the 70-71 model years. They have been refinished with Hemi Orange paint to match the production year finish. The interior has received a light coat of engine clear -  to facilitate oil return and minimize flash rust. Each cover comes with new reproduction breather filter and PCV valve grommets. All mounting points are straight, as is the gasket sealing surface.  There are typical impressions on the tops/sides of the valve covers with reliefs as well. The wire loom retainers have new covers as well and help to maintain a neater appearance

This is a nice set of valve covers that presents well. Best of all, they are genuine Mopar parts!
FITMENT
These will fit B/RB engines with OEM heads for the 1970-71 models with hemi orange painted engines:
PLYMOUTH
Road Runner, GTX, 'Cuda 383/440, Sport Fury, Satellite Sebring Plus
DODGE
Coronet R/T, Charger R/T, Coronet 500, Super Bee, Charger 500, Charger S/E, Challenger R/T, Challenger S/E
They can also be used on earlier models, but the primary difference will be in the location of the breather filter and style and the location for the PCV provision.