1967-68 MOPAR 383/440 UNSILENCED AIR CLEANER CORONET R/T GTX DART GTS 'CUDA 383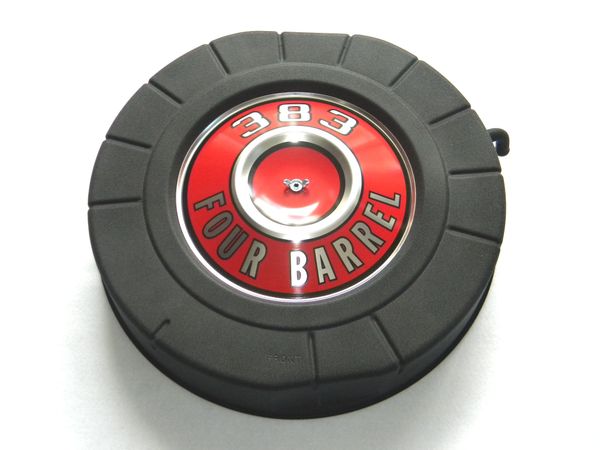 1967-68 MOPAR 383/440 UNSILENCED AIR CLEANER CORONET R/T GTX DART GTS 'CUDA 383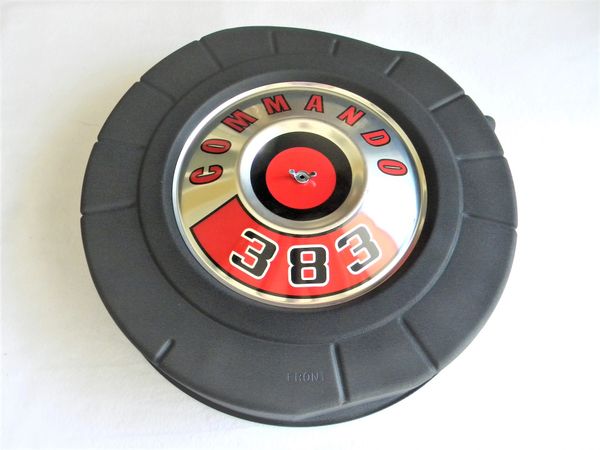 DESCRIPTION
OEM 1967-68 Mopar 383/440 Unsilenced Air Cleaner. This is an OEM 67-68 air cleaner assembly that has been refinished in wrinkle black to present a period correct image. It has been refinished to match the early A/B-body cars and has the correct 90 degree nipple on the driver's (LH) side. The "FRONT" impression is visible through the wrinkle paint and helps to orient the assembly for installation as the factory had intended. The exterior features a reproduction Mopar licensed Air Cleaner Service Decal. 
The base fits early 68 models and features a 5 1/8" carburetor flange that fits the Carter AVS carburetors, as well as Thermoquad / Rochester Quadrajet / Holley / Edelbrock / Demon varieties. It has been tested on a Holley double pumper and provides ample clearance for all linkages and float bowls.
To complete the assembly, a new heavy duty air filter and period correct wing nut are included. A "Made in Canada" stamp has been added as a nice finishing touch. The wrinkle finish is nice - it features typical surface characteristics to match the factory finish.
A 383 Commando, 383 Four Barrel, or 383 Magnum pie pan is included; if you need another pie pan, please inquire first prior to making a purchase to validate your requirements - there may be an additional charge for others due to them being discontinued.  Please let us know your choice; if no selection is made, the 383 Commando pie pan will be included. 
This assembly is in very nice condition and will enhance your restoration. 

For further information on the restoration process and additional selections, please contact us.
                                                                                                       BACKGROUND
The history of the larger 18"  unsilenced air cleaners centers on the first iterations of A-body big block cars produced outside of the Chrysler channels. Mr. Norms Grand Spaulding Dodge dealership shoe-horned Chrysler big blocks (383s) into the 67 A-bodies and sold them outright. Chrysler execs finally figured out that they too could do it and began a modest production run for late 67. The air cleaners were modified 18" Coronet R/T & GTX assemblies that featured the unsilenced option (that would follow with the revision of the more common 68-69 smaller versions). Once the air cleaners were made, they weren't all used up for the 67 run. Chrysler installed the leftovers on early 68 A-bodies, as well as early 440 R/T (Charger and Coronet) & GTX models. The center cones were the larger ones designed to incorporate the classic pie pan engine ID plates. This detail has been corroborated by through multiple authenticating channels to include Mopar Nationals B-body judges.
Many of our assemblies have an extremely limited supply - there are simply not enough available to meet demand. As such, the adage "Here today, gone tomorrow" applies. While we strive to maintain a good diversity of air cleaners, it is impossible to predict if/when we will get another in stock.
APPLICATIONS
This assembly is correct for the following 1967-68 383/440 high performance models:
Dodge

Dart GTS, Coronet R/T, Charger R/T

Plymouth
'Cuda 383/440, GTX
It will fit A/B/C/E-body cars ranging from 69-73 as well with the larger carburetor flange, but is only correct for 1967 and early 68.
FITMENT
The assembly will fit factory 4 barrel carburetors (Carter AVS) with a 5 1/8" diameter flange to include Holley, Carter, and Edelbrock variations. If you have modified your carburetor or intake manifold, please inquire first prior to bidding to ensure fitment is correct. Return requests for non-fitment will not be honored.
CUSTOMER SERVICE, WARRANTY, & RETURNS
CUSTOMER SERVICE
The assembly will ship within one day (usually the day of payment) with shipping/tracking information provided.
WARRANTY
This assembly is guaranteed to match the item description – customers have up to 14 days to return the assembly after receipt if it is not as described.
RETURNS
Assemblies must be returned in the original packing – customers are responsible for return shipping charges. A refund will be issued upon receipt of the inspected assembly. Returns for non-fitment will not be honored – please ask questions first.
CLAIMS
In the event of shipping damage, customers must save all packaging and send 5 digital pictures so Musclecar Air Cleaners can initiate a shipping damage claim.
SHIPPING OPTIONS
We ship with
All descriptions and photos property of Musclecar Air Cleaners – all rights reserved. No duplication of any kind is authorized.