1964-66 MOPAR 273 HIPO VALVE COVERS W/PCV & BREATHER FILTER 340 360 DART 'CUDA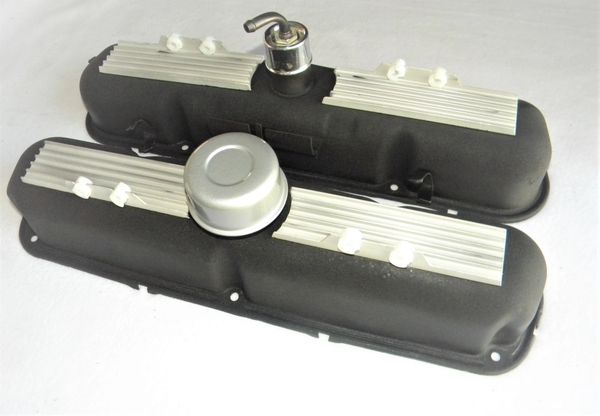 1964-66 MOPAR 273 HIPO VALVE COVERS W/PCV & BREATHER FILTER 340 360 DART 'CUDA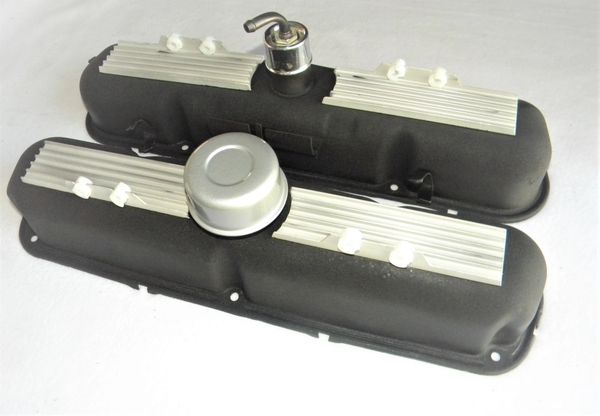 DESCRIPTION
This is a very nice set of OEM Mopar Valve covers prepared for installation on the 64-66 model years. They have been refinished with black wrinkle paint to match the production year finish. The interior has received a light coat of engine clear -  to facilitate oil return and minimize flash rust. The set comes with an original painted valve cover breather filter and an original chrome capped PCV valve. All mounting points are straight, as is the gasket sealing surface; one valve cover bolt hole was previously repaired as pictured - fully functional but mentioned for clarity.  There are typical impressions on the tops/sides of the valve covers with reliefs as well. The wire loom retainers are new and help to maintain an original appearance. The PCV is part of the CAP system - the valve itself is an NOS piece.
The tops of the valve covers are fitted with original aluminum heat dissipation fins  - the Coup de Gras for small block Mopar appearances. Each features the correct new valve cover wire insert slots with no missing flange, as well as the wire loom heat shield (more specific to the 66 model year).
This is a very nice set of valve covers that presents well. Best of all, they are genuine Mopar parts!
FITMENT
These will fit LA engines with OEM heads for the 1964-66 models with the HP 273 4V engines. Technically, they are 66 correct only, but will fit the 64-65 and 67 models with a period image. The will also enhance any 340 engine and 360 engines up through 1974.
PLYMOUTH
Barracuda, Formula S with Commando 273 engine
DODGE 
Dart, Dart GT with Charger 273 engine
They can also be used on other small block models, but the primary difference will be in the location of the breather filter and style and the location for the PCV provision.