1958 CHEVROLET IMPALA 348 TRI-POWER AIR CLEANER OEM 1957 PONTIAC SAFARI CHIEFTAIN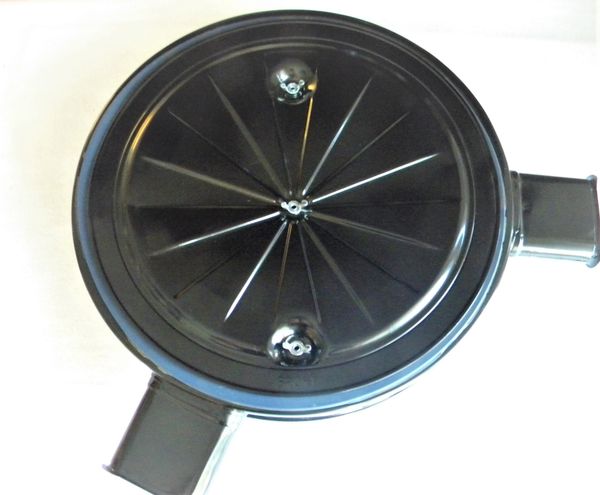 1958 CHEVROLET IMPALA 348 TRI-POWER AIR CLEANER OEM 1957 PONTIAC SAFARI CHIEFTAIN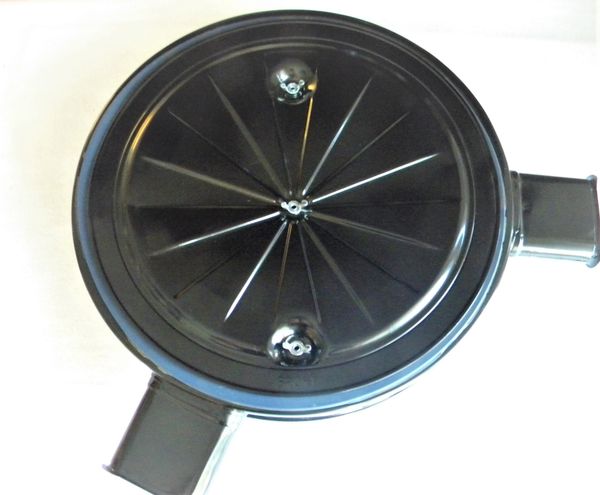 DESCRIPTION
OEM 1958 Chevrolet Impala 348 /1957 Pontiac Chieftain/Safari Tri-power Air Cleaner. This assembly has been media blasted and refinished in 60% gloss black to present a period correct image. The dual snorkels are in good condition and retain all of the factory spot weld marks where they were attached to the base, as well as those that attach the internal air inlets to the snorkel itself. The base is very clean and features the various indentations as stamped by the factory. The exterior presents the "C" stamped above each snorkel. The snorkels are clocked at 9:00 and 1:00 o'clock when looking from the rear, indicating this would be the early style of the assembly (PN 1553222). The orange over black A59C service decal completes the exterior to match the factory presentation as close as possible. 
The tri-power carburetor flanges feature the equidistanced flanges with tall stacks and small flanges - correct for the early style applications with factory original Rochester carburetors. This assembly is specific to 1957-58 cars due to the tall stacks and three wing nut starburst lid. Note later models changed the snorkel orientation  to 12:00 and 3:00 o'clock, more commonly seen and reproduced.
The original OEM starburst lid presents nicely and enhances the assembly. It features the correct triple wingnut wells and filter ridges. 
As an added bonus, an NOS OEM A59C square mesh air filter completes the package, along with period correct wing nuts.  
This assembly is nice and appears as originally produced -  it will enhance your restoration. Best of all, it is an utra-rare genuine GM part! 
Many of our parts are available only once - we cannot predict if/when another will become available due to the scarcity of original parts. The old adage "here today, gone tomorrow" applies to many of these unique assemblies. While we strive to maintain a strong diversity of desirable parts, there simply aren't enough available to meet demand at times. 

For further information on the restoration process and options, please contact us.
APPLICATIONS
This assembly is correct for the following 1958 348 tri-power models:
CHEVROLET
Impala 348
PONTIAC, 1957

Safari, Chieftan 316 370 - with or without A/C
This assembly will not fit the 1959-60 models due to the taller carburetor stacks.
FITMENT
The assembly will fit factory tri-power Rochester carburetors with the three small center flanges. If you have modified your carburetor, intake manifold or valve covers, please inquire first prior to bidding to ensure fitment is correct. Return requests for non-fitment will not be honored.
CUSTOMER SERVICE, WARRANTY, & RETURNS
CUSTOMER SERVICE
The assembly will ship within one day (usually the day of payment) with shipping/tracking information provided.
WARRANTY
This assembly is guaranteed to match the item description – customers have up to 14 days to return the assembly after receipt if it is not as described.
RETURNS
Assemblies must be returned in the original packing – customers are responsible for return shipping charges. A refund will be issued upon receipt of the inspected assembly. Returns for non-fitment will not be honored – please ask questions first.
CLAIMS
In the event of shipping damage, customers must save all packaging and send 5 digital pictures so Musclecar Air Cleaners can initiate a shipping damage claim.
SHIPPING OPTIONS
We ship with
International shipping is via USPS Priority Mail International - please inquire for a rate. If purchased, additional shipment costs will be invoiced based on total costs less store-calculated shipping cost charges.