1956 Chevrolet Belair 265 2X4 Batwing Air Cleaner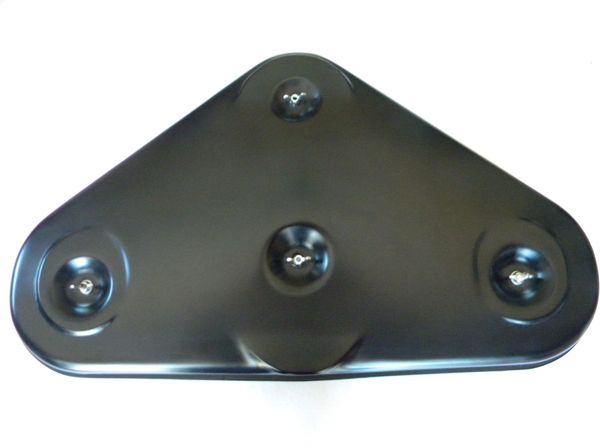 1956 Chevrolet Belair 265 2X4 Batwing Air Cleaner






DESCRIPTION

All Metal OEM Chevrolet Bel Air 265 2 X 4 Batwing Air Cleaner. This assembly has been carefully refinished in low-gloss black finish to present a period correct image. All of the seams are nearly perfect and aesthetically correct. The top features the twin pod and carburetor flange holes designed for the Will Carter Four Barrel WCFB models featuring the 4 1/8" carburetor flanges - this will only fit factory style OEM carburetors of the era (not the modern Edelbrock AFB variations). The offset of the carburetor inlets is specific to the Chevrolet 265 models, as is the height difference.




The dual oil bath pods are specific to the 56 models and features two oil bath filters. Separate pod bases include the installed studs with OEM period correct wing nuts that retain an original appearance.




This assembly is in excellent condition and will enhance your restoration. Best of all, it is a genuine GM part!

For further information on the restoration process, please contact us.

APPLICATIONS

This assembly is correct for the following 1956 2 X 4 HP models:

Chevrolet

Bel Air, Nomad, 150, 210




The assembly will not fit 57 models due to the stack height and offset pod requiremends for the 283.




Note: This will NOT fit Cadillac models due to the different offset between the carburetor flange inlets (9" vs 7.5").

FITMENT

The assembly will fit factory 2 X 4 barrel WCFB carburetors with a 4 1/8" diameter flange: it will NOT fit Holley, 68 up Carter, and Edelbrock variations due to the larger carburetor flanges (5 /18"). If you have modified your carburetor or intake manifold, please inquire first prior to bidding to ensure fitment is correct. Return requests for non-fitment will not be honored.